FROM: Petra Keller & Siena 
November 4th, 2019 PST
Woof! My name is Siena and I am a spunky 2-year-old heeler mix. Oh myyyy, the adventures I have had with my mom Petra!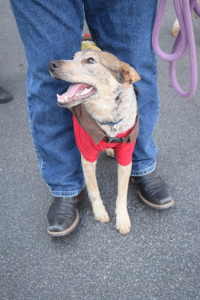 I enjoy going on trails rides where I get to run alongside and this past summer, I even got to come along on the Pony Express Re-ride!
I sure loved helping "Uncle Red" (mom's horse) who was carrying the Mochila (the special leather saddle pouch) which had lots of letters in it.
Thankfully I didn't have to carry it – it was heavier than I am.
Recently, my mom and I had a special mission – we had to personally deliver letters to veterans! I was all for it because I love to visit with people!
Let me tell you about the "Pony Letters for Veterans" project:
As part of the 100-year Reno Rodeo Celebration the National Pony Express Association organized a "Pony Letter for Veterans" letter drive!
We did presentations all over about the Pony Express and the special project – I even had a special Pony Express uniform I got to wear at the presentations!
Then we asked everyone to write a letter to a veteran, which would be carried during the Reno Rodeo 100's Year Celebration and be delivered by hand in the fall to the veterans.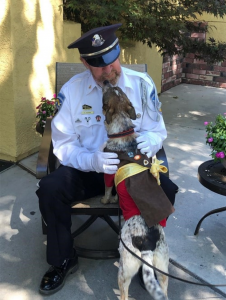 We collected over 1300 letters – they arrived from 14 different states and 3 countries!
There were letters from school groups, civic groups, and Pony fans from all over!
Handmade cards, postcards, colorful letters, beautiful drawings and heartfelt messages were prepared for our veterans.
A special stamp "Carried on Horseback by the Pony Express" was stamped on all of them and they were carried horseback in a special made leather Mochila on Patriot Night at the Reno Rodeo.
Photo: Siena & David Rifkin Honor Guard – Nevada Veterans Coalition
These last few months we have been delivering the letters with the Nevada Veterans Coalition Honor Guard – What fun!
I heard many stories from folks that have traveled to places such as Guadalcanal, Vietnam, Korea, Germany, Britain, France and so many more.
These folks served in the Army, Navy, Air Force, Marines and Coast Guard… Wow, the stories they shared!
I want to share some of my stories with you…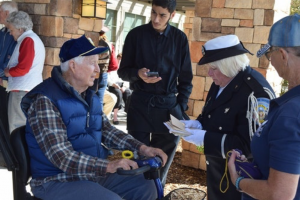 We were visiting one of the homes and had visited a few of the residents in their rooms – when I saw him… He had a twinkle in his eye and while sitting in his chair, he winked at me! Of course, I had to jump in his lap and just start giving him kisses! He started giggling so loud and then he exclaimed, "THAT is the most action I have seen in years!"
He shared that he was 94 years old and then started telling me about when he was a boy in Virginia City and all the work he did through the years – it was fascinating! I wish I could have sat there longer to hear all his stories.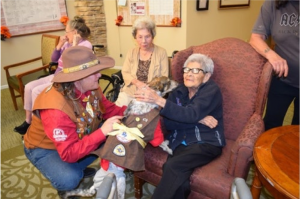 Siena & Petra visit with Army Nurse Corps Veteran, Isabel (102 years young)
Photo Credit: Hellen Newman, HandPict
On another visit, I spied out of the corner of my eye, one of my favorite things – a tennis ball! But, not just one, but TWO of them – "Oh myyyy! What a great place we have come to! With so many people around, I am sure I can get someone to throw the ball! I just need to grab it and bring it to someone. It will be such fun!" Or so I thought…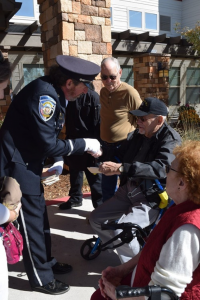 I managed to get mom to go talk to the gentleman that was nearest the two balls.  I kept trying to grab the ball to bring it her – but it wouldn't move! "Why can't I get ahold of this ball so someone can throw it for me?" Then mom explained to me that the tennis balls are attached to this "walker" device this gentleman uses – no wonder I could not fetch it! They were stuck to it!
On another visit mom brought my big horsey sister, a pinto mare named Tiara Nevada, but we just call her T. While visiting a couple places I got to go inside and meet folks, but T had to stay outside!
After we did our talk inside, folks swarmed out to go feed carrots to T.
Everyone enjoyed giving T carrots and I sure liked that T would share them with me!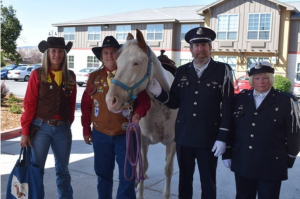 Pony Express members Diane Garland, Petra Keller, "T", Nevada Veterans Coalition Honor Guard David Rifkin, Sharon Serenko 
Photo Credit: Hellen Newman, HandPict
I highly recommend that you take some time and visit your local veterans and hear the fascinating stories they have to share.
These veterans really appreciate spending time with others – and they love it when you bring your 4 legged friends like me!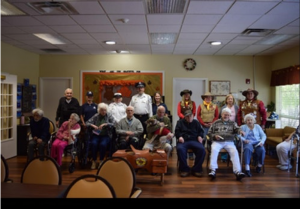 Giving out the letters
Photo Credit: Hellen Newman, Handpict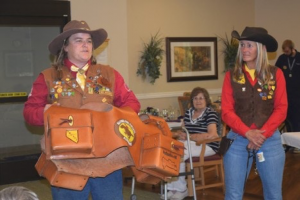 Petra Keller and Diane Garland talk about the Pony Express
Photo Credit: Hellen Newman, HandPict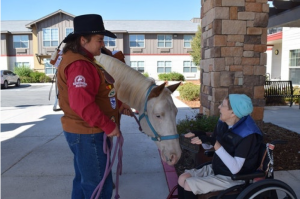 "T" visiting with one of the veterans – checking to see if she had more carrots!
Photo Credit: Hellen Newman, HandPict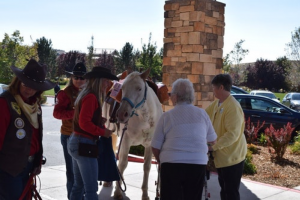 Handing out the letters
Photo Credit: Hellen Newman, HandPict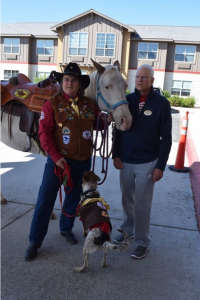 Photo Credit: Hellen Newman, HandPict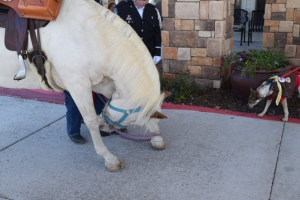 "T" bowing for the Veterans
Photo Credit: Hellen Newman, HandPict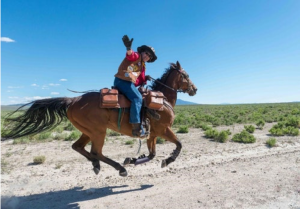 Petra Keller grew up in Germany and fell in love with everything Western – including horses! Her family moved to the U.S. when she was in her teens, and even though she couldn't own her own horse until she was adult, she never gave up the passion. She moved to Nevada, got into horses and found out she could be a part of the "Pony Express Re-Ride" that takes place every year. To find out more about it and Petra head on over to October's Issue and read "The Pony Express Re-Ride!"
Article Originally published – https://www.htcaa.org/trail-journal/November-2019/articles?fbclid=IwAR3BYQK8xNsTxzVN3_IyIcI8uyOfOWypJzjNuNOZp8p-vvuLEalgALhR0aI