1,966 miles in 10 days!
Young men once rode horses to carry mail from Missouri to California in the unprecedented time of only 10 days! This relay system along the Pony Express National Historic Trail crossing eight states was the most direct and practical means of east-west communications in 1860. From Missouri to California the Pony Express riders could deliver a letter faster than ever before.
The Pony Express was in operation for only 18 months between April 1860 and October 1861. Nevertheless, the Pony Express has become synonymous with the Old West. In the era before easy mass communication, the Pony Express was the thread that tied East to West.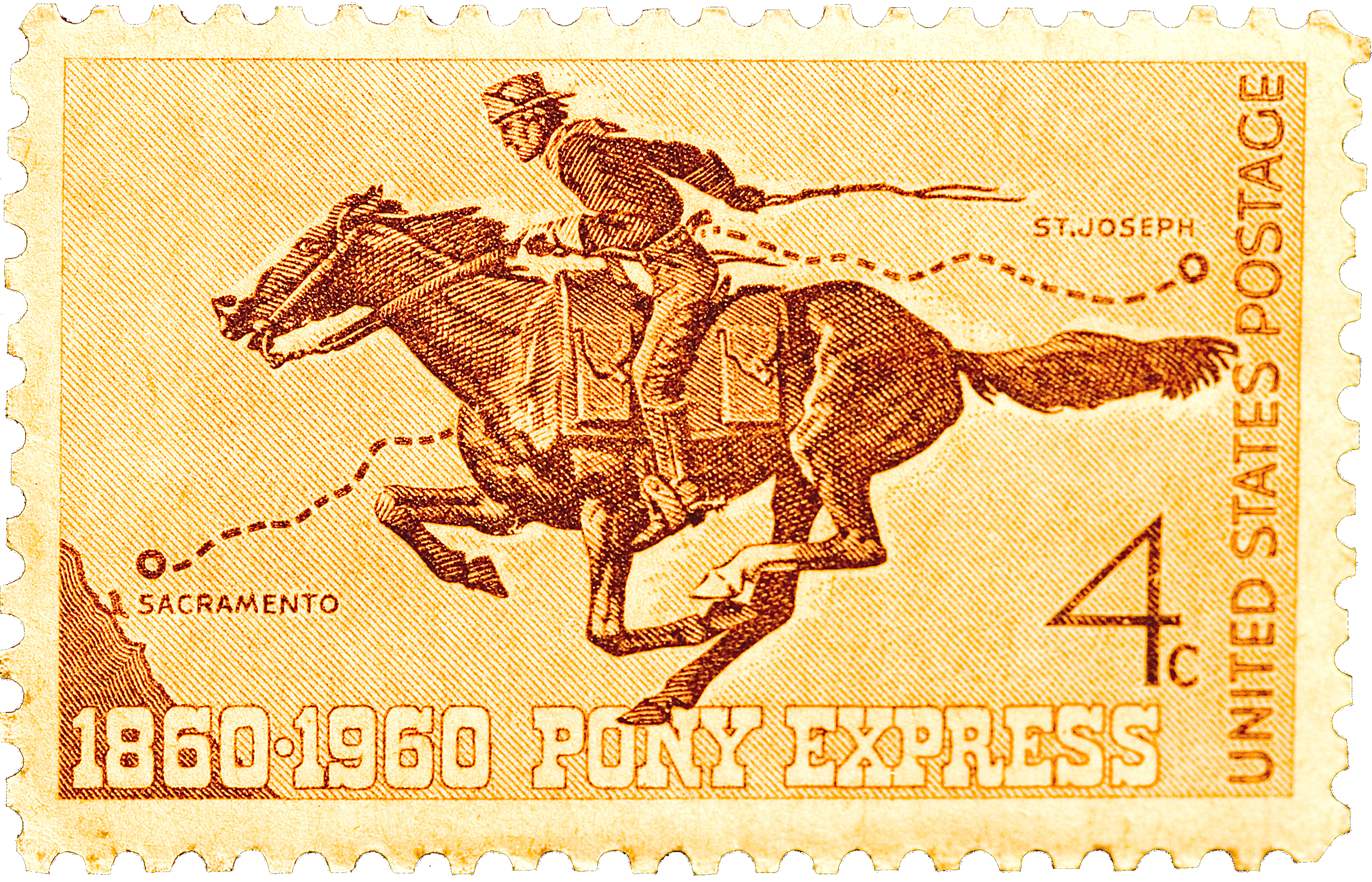 Thousands of people moved west on the Oregon and California Trails starting in the 1840s, followed by the 1847 Mormon exodus to Utah and the 1849 Gold Rush. The growing West needed fast mail communication beyond the Rocky Mountains. William H. Russell, Alexander Majors, and William B. Waddell created the Central Overland California & Pike's Peak Express Company to carry mail across the county. It later become known as the Pony Express.
On June 16, 1860, about ten weeks after the Pony Express began operations, Congress authorized a bill to subsidize a transcontinental telegraph line to connect the Missouri River and the Pacific Coast. This resulted in the incorporation of the Overland Telegraph Company of California and the Pacific Telegraph Company of Nebraska.
While the telegraph lines were under construction the Pony Express operated as usual. Letters and newspapers traveled the entire length of the line from St. Joseph to Sacramento. The telegrams went only between the rapidly advancing wire ends.
It was on October 26, 1861 that San Francisco was in direct contact with New York City. The Pony Express was officially terminated. In November 1861 the last Pony Express letters completed their journey.
Most of the original trail has been obliterated by time or human activities. Along many segments, the trail's actual route and exact length are matters of conjecture. In the western states, the majority of the trail has been converted, over the years, to double track dirt roads. Short pristine segments, believed to be traces of the original trail, can be seen only in Utah and California. However, approximately 120 historic sites may eventually be available to the public. This includes 50 existing Pony Express stations or station ruins.