The Re-Ride is Coming Soon on June 20th–30th 2018 from California to Missouri!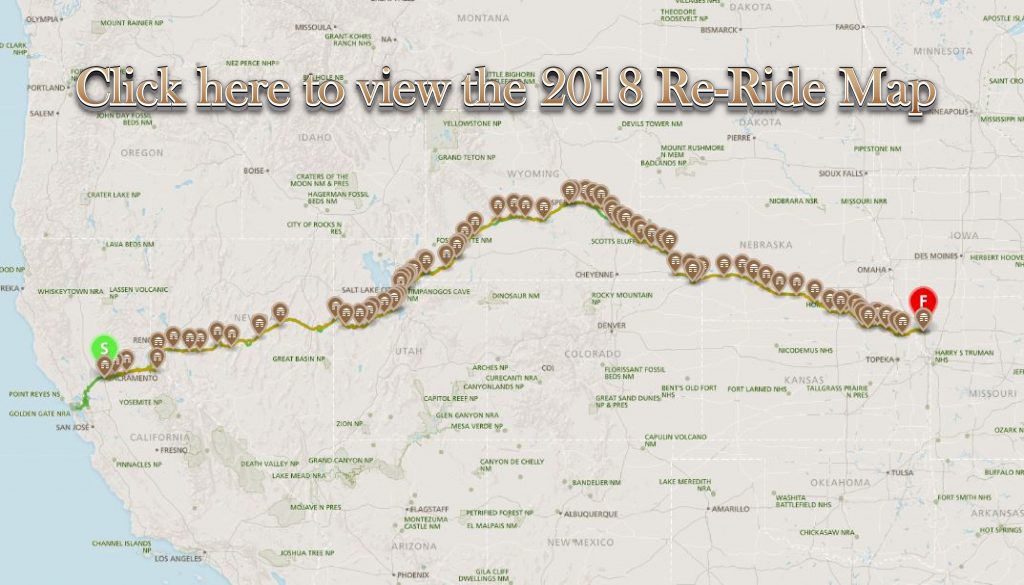 Please note the times listed are based on your Computer/Device time, not the local ride time.
Here Comes the Pony Re-Ride
Members Mount their Horses and Re-Ride History
Follow the Pony Express Re-Ride and the mail as they travel 1,966 miles from St. Joseph, MO to Sacramento, CA. The Pony Riders travel day and night to make the 10 day trip. There is a GPS that is carried in the Mochila. While viewing the map you can zoom in and out for a better view. This map will be active 24/7. This map can also be viewed in a separate window.
You also can check the National Pony Express Hotline at 1-855-809-8589. This Hotline is updated as soon as reports begin coming in from the trail. These reports come from riders, support staff for the riders, Radio Ham Operators and from the interactive map.
Stories and status updates are also added to our Reports from the Trail.
Recent Status Updates
FROM: Dean Atkin, National President
SENT: June 15th, 2017 | 4:29pm PST
STATUS: On June 15, @ 4:30PM the mail arrived in Sacramento. Congratulations to a successful year.
FROM: David Kittle, Second Vice President
SENT: June 15th, 2017 | 9:44am PST
STATUS: On June 15th at 9:30 am PDT the Pony and mail will board the train at Latrobe, CA for the train ride to the Humbug/Willow Creek junction.
FROM: David Kittle, Second Vice President
SENT: June 15th, 2017 | 9:19am PST
STATUS: On June 15th at 8:09 am PDT the Pony and Mail were passing south of Shingle Springs, CA in Frenchtown, CA
FROM: K7VOC
SENT: June 14th, 2017 | 5:57pm PST
STATUS: FRM:Bob Williams
SUBJ:Pony Status 17:40
MSG:As of 17:40 the mail was transferred to California to complete Nevada.
Considering the weather in the eastern part of our state and the excitement
at the finish I think the Nevada Pony Express Riders should be very proud
that the mail was only 10 minutes late overall. It appears that there were
no serious injuries to people or ponies.
Great job and thanks to all.
It was a blast.
See y'all next year
Bob K7VOC
Your friendly neighborhood HAM
FROM: K7VOC
SENT: June 14th, 2017 | 3:31pm PST
STATUS: SUBJ:Pony Status 15:00
MSG:15:00 Pony is through Tramway Market headed for Friday's Station.
1:55 ahead.
See All Status Updates