FROM: Petra Keller
July 3rd, 2019 PST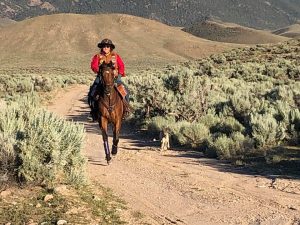 Getting to the ride section in time is always such a guess… it is at least a 3hr haul to the Cold Springs where the team was meeting. You check on status before you go to bed, you check again over night and then again as you wake up. You want to make sure you are at your location in plenty of time! I call it the Pony Time YoYo. Overall the mail had been running behind schedule for a few days, but Nevada teams were known to make up some time! The Schellbourne riders made up a bunch of time and then came the night – unsure of what would happen.
We knew the mail was running late over some tough terrain for the teams before us.  I load up Fletcher & Red and head over to the Young's as we were trailer pooling. Carrie to drive with me and Darren and Chloe to take the car and meet us.
We meet Team Jares early meet at Cold Springs bar, have lunch and check on the status of the mail. It had been a wet winter, so we knew the section might be difficult and muddy. [This is the same section that a couple of years ago we came across the abandoned stuck Pickup truck] Darren and I decide to predrive the section to figure out where we would be able to park the rig to stage. Lots of water – not quite as muddy as the year with the truck stuck, but we could definitely not go to our usual turn around spot. Darren runs up past the creek flowing over the road to see how bad it would get. We return to Cold Springs with our scout report and determine how we would break up the Edwards Canyon section. Team Jares – always breaks out the section into Smith Creek Side of the Mountain, Mountain and Edwards Creek Side, 3 equal parts but the drive from one side of the mountain to the other is about 60 miles to get around the mountain. The Mountain section is always a solo rider as there is no way to bring in a rider. We discuss logistics and legs. I hand out yellow Coolkerchiefs that I made as it was going to be a toasty day and every little bit helps to stay cool.
We knew the mail was running late – and we try to time our drive to Railroad pass from Cold Springs to not have too much time to wait there. Cold Springs has some shade, whereas Railroad pass is just a turnout on top of a pass without shade or anything. Enroute we drop off Darren's car at the entry to Edwards Creek, we wouldn't need it on the other side of the mountain.
As we were waiting at Railroad Pass – I see a familiar face that I hadn't seen since Nebraska (I had met him at the start at St. Joe, MO). Here is David with his camera who has been following the pony with his wife the entire route! So happy to see him and share some stories from his experience! That was short lived as we hear the rider is coming and I need to get my horse loaded for my leg.
"Rider In" and the hand off goes to Chloe on Lassen, once she takes off, we drive off to get to our leg where Chloe will hand off to Red and I. Chloe and Lassen make great time! We have just enough time to unload Red and get ready for the exchange! Weather was warm and I was glad I brought some of the yellow coolkerchiefs that I made.
This section is a lot of rigs that are leapfrogging to get repositioned towards the next section and we have a few photographers in our line up following us. As I was letting the rigs pass me so that they can be at their stage, I walked a few steps to let them by towards the east. I hear Doug "Petra this year we are riding WEST!" – I know right away that I will hear that for years to come! All in good fun! It doesn't take much encouragement to get Red to start running WEST… he takes off at a full gallop and we are having a blast. Of course I will claim that the ride captain pointed us EAST ;-).
The rest of team Jares continues on towards Smith Creek to finish that section and Carrie, Chloe, Darren and I drive around the mountain and into Edwards Creek. Arriving at our staging spot, we had some reception to check on the tracker to see where the Alex was carrying it over the mountain. We had received a message from Doug when Alex left the ranch – it usually takes an hour and fifteen minutes or so for the Mountain leg. Thankfully Doug always includes the actual time he left since it can take a bit of time to have enough reception to receive the text. We knew he was getting close.
The 'benefit' of the mail running a bit behind for this leg was that the day was starting to cool off and the temps were dropping. I decided based on temps and that there were several water sources on this stretch that I would let Siena (my 18 month old heeler) run along. She loves to accompany me on rides and this was a great section for her to come along. So Red, Siena and I head up the canyon – we had about a mile to cover before we get to the "White House" our agreed exchange spot. On our way in we see cattle, Red is still not a fan of cows! He stopped for the cattle stare down and with very little encouragement he went on. I know he knows what is going on when we ride in this canyon. He LOVES Pony time and carrying the mail. We cross a few creeks, let him water up a bit and get to the "White House". We timed it well, it didn't take long for Alex to appear and I knew he was close as Red's ears perked up in the direction he was coming way before I saw the red shirt through the Sagebrush. Alex and I do our exchange and off we go. Siena is absolutely thrilled that we are moving! Running along and just so happy. The first mile of the leg has a few obstacles that I slow down for, creek crossings, and some rather rocky sections. We ride past where Darren and the trailer are at the staging spot at Red slows down a bit thinking we were finishing there, but I encouraged him to keep going and he gladly kept cantering on. We get past the first cattle guard and then the road becomes smoother, less rocks. I think in 10 years of carrying the mail, this mile was my favorite to date! I've had some special rides but this one was pure bliss. The weather was amazing, the sun was starting to go behind the hills, temps were so pleasant and Red was just in a zone moving along and Siena happy as a clam running along. We see Chloe ahead waiting with Fletcher and we exchange the mochila. They are at a good clip and Fletcher (first time Pony Express horse) enjoyed moving out. Then I realize – Hey where is Siena? Well she decided to accompany Chloe/Fletcher as well and I could see her running along with them! I called her back and she reluctantly left Chloe's side to come back, she sure wasn't done running.
We load up Red and drive out to meet Team Jares at the intersection of HWY50, we manage to pass Chloe on the trail so that we can be there when the next exchange happens. We load up to go to the Cold Springs the end of Team Jares section. Team Jares had a special dedication to Rider Captains of that section we have lost. Chloe and I pulled out our horses to honor the riders coming in. Cory and Alex Jares were taking the last leg of section with a ponied horse carrying their grandfathers saddle and boots. Arriving into Cold Springs were several members, including Mike & Pam Ryan for the dedication of the beautiful plaque. After the hand off to the next ride team we put our horses up and gathered for the dedication, Cory dedicated the plaque to the ride captains of that section Jim Rankin, Dale Ryan, Ernie Bugg and Ken Jares. We had our team dinner at the Cold Springs Bar (Thank you Team Jares!) and then headed back home. The downside of the mail running late…. was that we did not make it home until nearly 2AM. Great Job Team Jares – We made up ½ hour during our section!