Welcome to Nevada!
Keeping the History of the Pony Express Alive through personal interaction at schools, museums, parades and public presentations, our members are always sharing the history and demonstrating the legacies of the Pony Express. Always in uniform the red shirts of the Pony Express riders are easily identified at every parade and historical event in Nevada.
President: Arthur Johnson
Vice President: Ron Bell
Second Vice President: Gene Ockert
Secretary: Kim Copel Harris
Events Coordinator: Brian Bell

At large: DebiLynn Smith
At Large: Rex Hall
Welcome To The Nevada Pony Express Ya'll!
Welcome to the new year returning members and all the new members! It is with excitement and pleasure that I look forward to the challenges of 2017 and working with each of you. YOU are the key to our success this and every year and I am sure that together we can make this the best year ever.
Because you have joined us I am sure you realize the rare privilege we have, to be a part of re-enacting and keeping the Pony Express legend alive. We are the rarest of rare that get to test our horses, horsemanship, skill, and tenacity, with those rough and tumble pioneer riders of yesteryear!
Although our biggest event is the re-ride in June we are a year-round endeavor and I would urge you to stay connected, and involved. We have a wide range of needs which can be fun and so helpful. Please come to the meetings and consider volunteering for some of the other needs.
In order to keep our schedule, it is of utmost importance that we keep up with our time line which require that we cover the great state of Nevada at around 10 miles per hour. We need to make all Mochilla exchanges as quick as possible (in under 2 min.) and less than that would be great! Please keep in mind that we all want you and your horse to be safe, that being said if we lose time it then puts a added burden on the other riders and horses which then might jeopardize the other team mates safety. If there is something that necessitates you going at a slower pace, please discuss it with your ride captain and I am sure there is something that can be worked out.
This brings me to my final thought. Would you consider being a ride captain? At the moment I am writing this, we need several new ones for this year and I would like to be training one for my area next year. If you think that you could be up to the challenge, please call me.
Happy Trails
National Pony Express Nevada Division President
Arthur Johnson 775-427-4061
http://nationalponyexpress.org/
https://www.facebook.com/National-Pony-Express-Nevada-Division-230397857006975/
Monday June 12, 2017

Ibapah, UT – Overland Pass

Ibapah, UT
5:30 AM

Overland Pass – Grubb's Well

Overland Pass
11:45 PM

Tuesday June 13, 2017

Grubb's Well – Railroad Pass

Grubb's Well
6:00 AM

Railroad Pass – Cold Springs

Railroad Pass
2:00 PM

Cold Springs – Sand Springs

Cold Springs
7:00 PM

Wednesday June 14, 2017

Sand Springs – Schurz Highway

Sand Springs
12:00 AM

Schurz Highway – Fort Churchill

Schurz Highway
3:30 AM

Fort Churchill – Carson City

Fort Churchill
7:45 AM

Carson City – Stateline, CA

Carson City
12:30 PM
Stateline, CA
5:30 PM
NPEA Nevada Division Scholarship Winner for 2015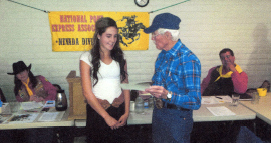 In the spring of each year the Scholarship Committee for the Nevada Division decides the theme for that year and sends out Scholarship Forms to all the high schools in what is referred to as the Pony Express Territory. The Pony Express Territory is a north and south of US Highway 50, The Loneliest Highway, running from the California state line to the Utah state line.
In April the essays are given to qualified teacher in English and he or she will determine the best essay to be awarded the scholarship. The subject this year was Bolivar Roberts. This year's winner was Sydney Huch of Minden, NV. Sydney Elisabeth Huch is a senior at Douglas High School in Minden, Nevada. She is currently carrying a 3.6 G.P.A … Sydney has been accepted to attend the University of Nevada, Reno campus in the fall. She will be studying towards a degree in Mechanical Engineering.
At Douglas High she participated on the track team. In her free time she volunteers at Pinion Pines Elementary school, which is the elementary school she attended. She also volunteers at the Douglas County Animal Shelter. Following her graduation from college she would like to travel to different parts of the world and to volunteer in different countries to better understand the different cultures.