2017/18 International Ride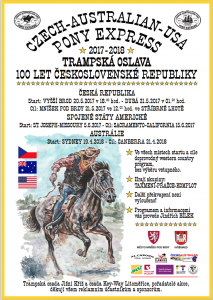 THE CZECH, AMERICAN, AND AUSTRALIAN PONY EXPRESS
Some will remember the First International Ride for Peace and Unity Among Nations, which took place in 1990.  The US event was organized and executed under the direction of then-National President Ken Martin.  A bunch of free spirits in then-Czechoslovakia wanted to celebrate the 5th anniversary of a Pony Express ride they were doing in their country by holding an international rider exchange.  Six Czech riders traveled to the U.S. to take part in the NPEA re-ride, and six American riders were invited to travel over there to ride with them.  The European ride that year occurred about six months after the fall of the Czechoslovak Communist government.  What an adventure!!
Fast-forward to 2017, and another International ride is being planned.  It seems that, in 1917 when World War I was boiling and things were ugly in Europe, Czech refugees left their homeland and found haven and welcome in Australia.  Jindrich Bilek, who is involved with the Czech Pony Express organization, has a current connection in Australia, and wants to commemorate the kindness the Aussies showed to his people one hundred years ago.  And since he is thoroughly a Pony Express guy, he wants to do something Pony Express to celebrate.  Since the Pony was an American institution, and because they so highly revere our western history and our NPEA organization, it's coming our way, too.
The Czech-Australian-USA Pony Express ride will begin near Prague on May 20, 2017.  Special letters will be carried on a portion of the European Pony Express route, then forwarded to St. Joseph, MO, for inclusion in our re-ride mochila.  Czech riders will be coming to California in June, hoping that some may participate in the 2017 Re-ride.  They also intend to travel to Washington DC where letters for our government will be delivered.  The Czech commemorative mail, and some NPEA mail, will be carried to Australia by boat, as it was in 1917, arriving there in 2018 to be carried April 19-21. Riders are being recruited "down under" to carry the mail between Sydney and Canberra. A special NPEA cache has been designed for the international ride.
In the meantime, if you chance upon the Czech riders during the 2017 Re-ride, greet them with a smile and welcoming handshake.  Their enthusiasm for the history of the American West is boundless.  Their trip to the U.S. will be the experience of a lifetime, and they will never forget your hospitality.
For additional information about the International Ride contact Pat Hearty 435 884 5546 or email p.hearty10@yahoo.com
View the Czech Video here …
Read the International Ride Press Release