Hosted by:
NPEA Wyoming Division
Jun 27th 10:00–12:00 pm

965 Grey Rocks Rd.
Fort Laramie, Wy 82212

Event listed in local time.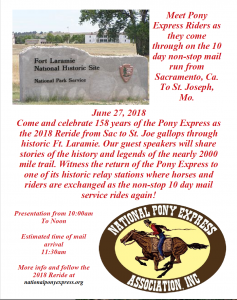 Meet Pony Express Riders as they come through on the 10 day non-stop mail run from Sacramento, Ca. To St. Joseph, Mo.
Come and celebrate 158 years of the Pony Express as the 2018 Reride from Sac to St. Joe gallops through historic Ft. Laramie. Our guest speakers will share stories of the history and legends of the nearly 2000 mile trail. Witness the return of the Pony Express to one of its historic relay stations where horses and riders are exchanged as the non-stop 10 day mail service rides again!
Presentation from 10:00am To Noon
Estimated time of mail arrival 11:30am